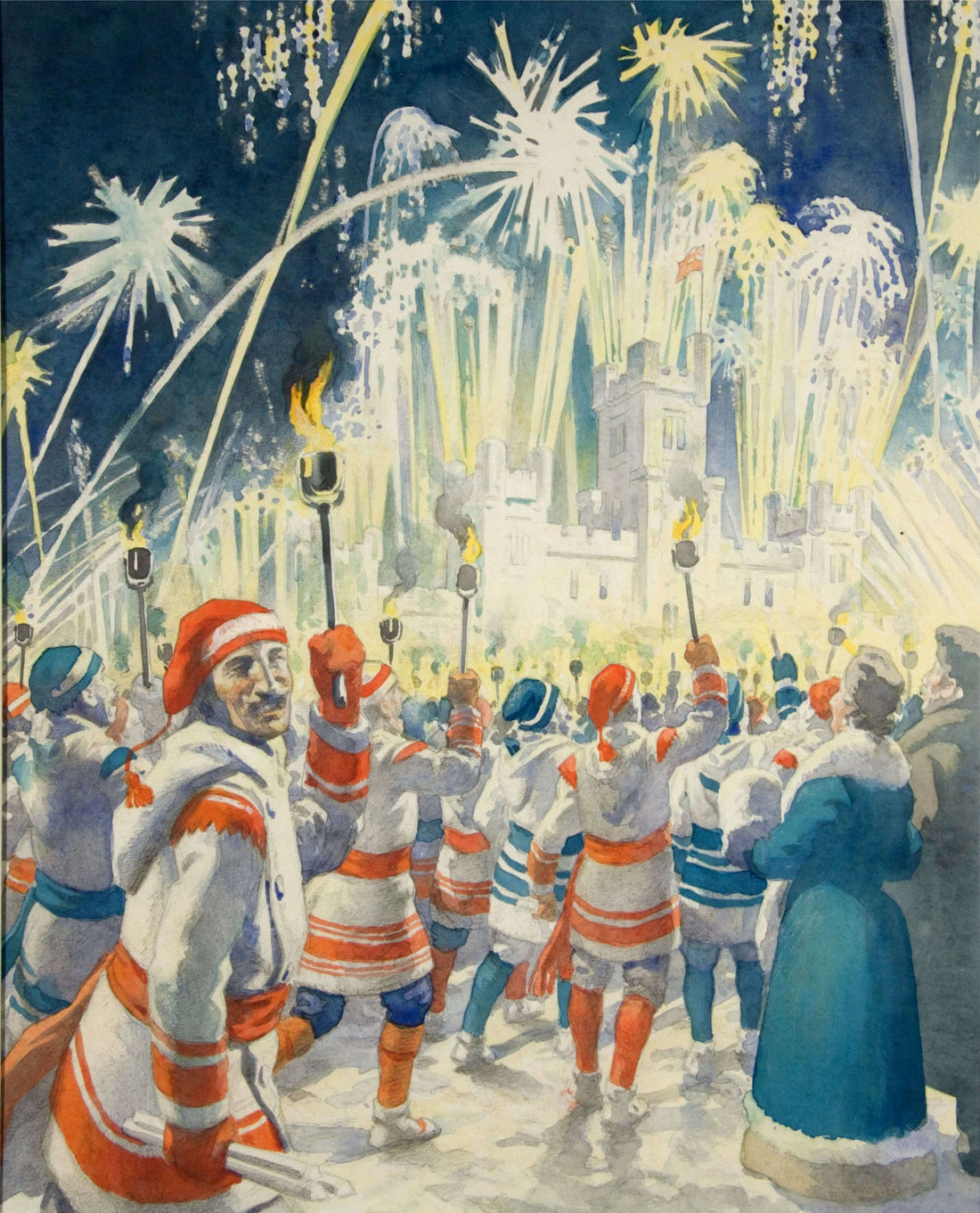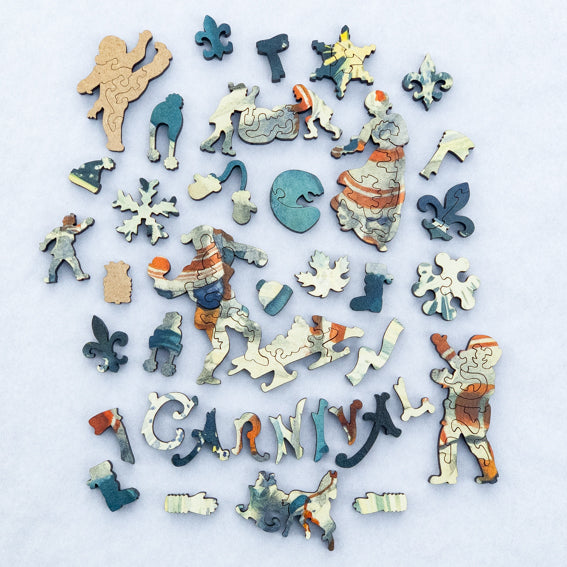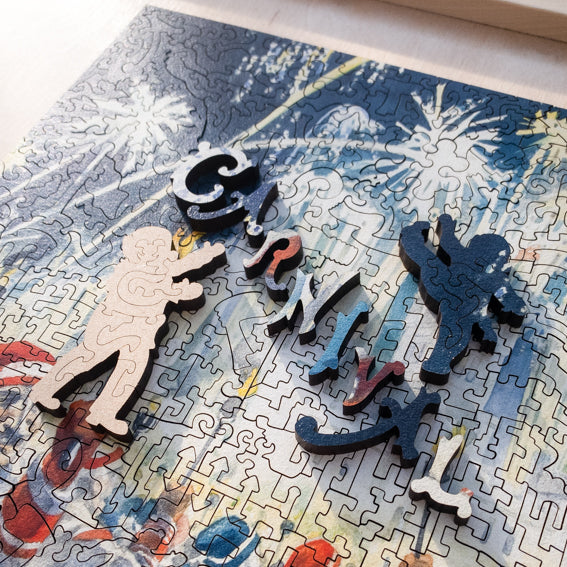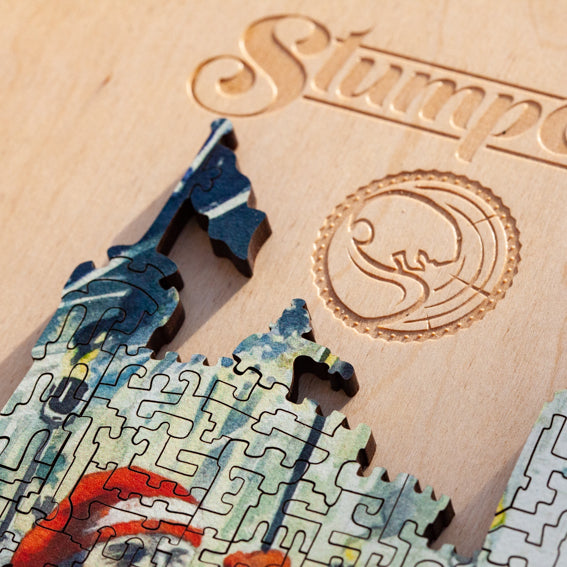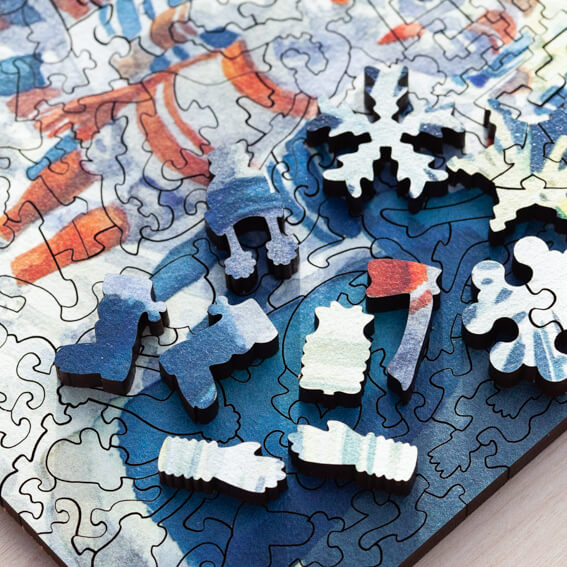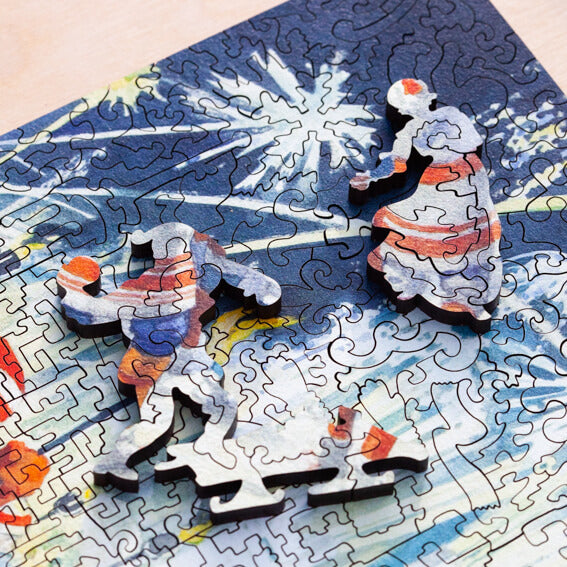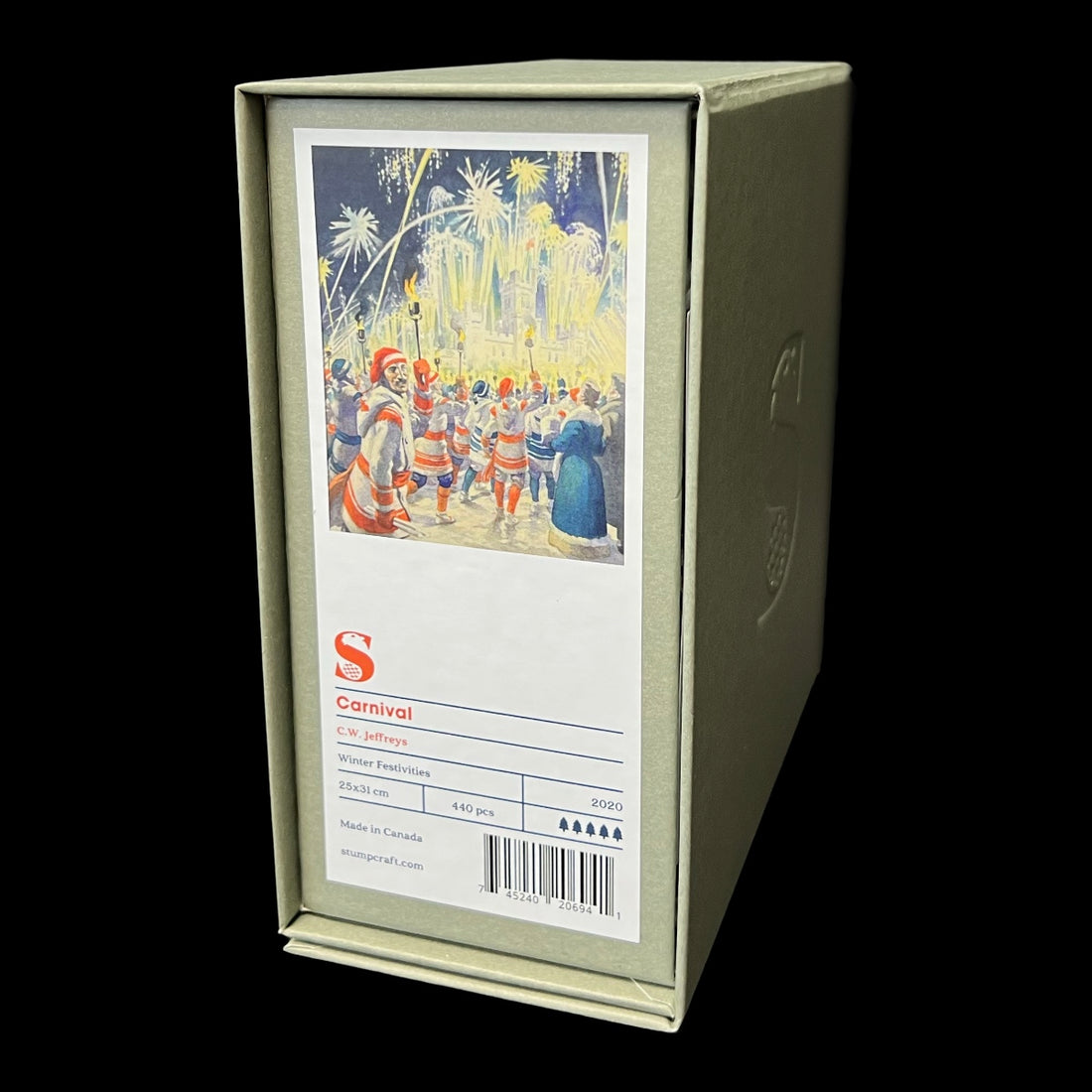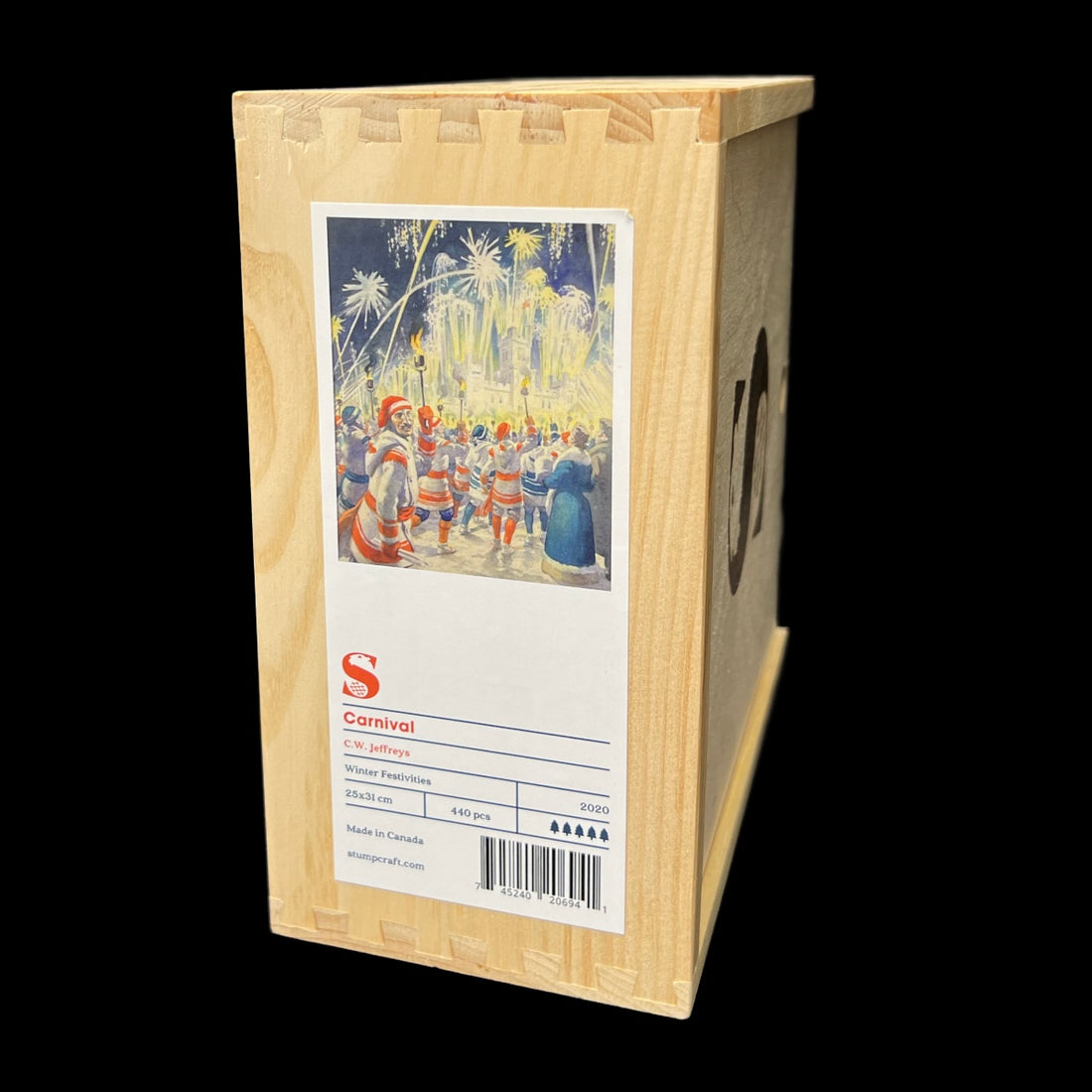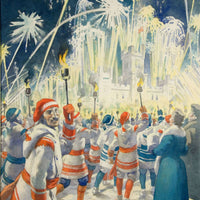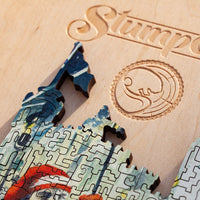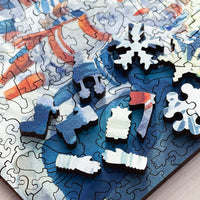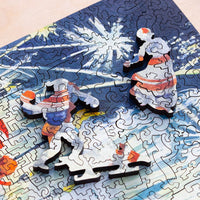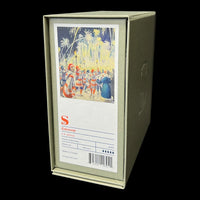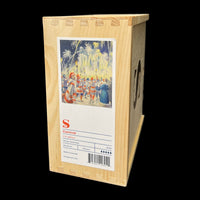 Carnival by C.W. Jefferys
Artist: C.W. Jefferys
Puzzle Designer: Jasen Robillard
Dimensions: 25 cm x 31 cm
Piece Count: 440
Difficulty: 5 out of 5
Charles William Jefferys (1869-1951) was a prolific Canadian artist, illustrator and author. He is best known for his illustrations of Canada's past which have stimulated the imagination and resonated in the cultural memory of Canadians for generations. His Impressionist landscapes, particularly of Western Canada, significantly influenced the artists of his day, including the famous Group of Seven. You can read more about C.W. Jefferys at the official online catalog. 
Winter festivals are part of our time-honored Canadian traditions. After all, what better way to celebrate the coldest months of the winter than bundling up and braving the freezing cold to go out frolicking in the snow with your friends and perhaps Quebec's Bonhomme Carnaval? Especially if you've got a great puzzle to share in the warmth of your home when you get back from the frigid festivities.

Once inside the warmth of your home, shed your tuques, mitts and scarves! Warm up by the fire as you reminisce and share stories about giant snow castles and epic snowball fights. Be warned: this is a VERY hard puzzle. If the warmth of the hearth isn't enough to warm you up, perhaps this brainburner will do the trick.

Note: all small StumpCraft puzzles, including this one, only come with a small reference label on the side of the box. For those wishing to use a larger reference image, please use the following link to display on your preferred digital display (iPad, phone, smart TV, etc.) 
Read more about this design at our Deep Dive Design Blog.
Made in Canada.
Customer Reviews
Write a Review
Ask a Question
Filter Reviews:
puzzle
Carnival
gift
friends
Canadian
challenge
Stumpcraft
pieces
neighbor
copy
11/30/2023
Anonymous

Canada
I recommend this product
Carnival
Excellent Puzzle, I already owned this and purchased it for a gift for my nieces.
11/06/2023
Pat

United States
I recommend this product
great puzzle, challenging but quite do-able
I enjoyed it a great deal. it's been a while since I did it, but the only thing that surprised me is that it's rated most difficult - thought it was hard but not so hard. I liked it enough that I keep think of buying my own copy (it was my neighbor's), really lovely puzzle
09/13/2023
Anonymous

Canada
I recommend this product
Great Puzzle
It was one of the hardest puzzles I have worked on, but the finished puzzle was great!
08/22/2023
DEVRİM E.

Germany
I recommend this product
My best Stumpcraft so far
With the exceptions of Lotus Kids and Queen Bee, which I haven't found time to assemble yet, Carnival is the best Stumpcraft wjp I've done so far. With its little pieces, this compact wjs is an absolute challenge, a lovely time bandit. To put it simply, I loved it. Thank you very much all the friends at Stumpcraft.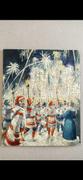 07/22/2023
eddie z.

Canada
I recommend this product
the carnival
I loved the puzzle Made it and enjoyed every minute of it