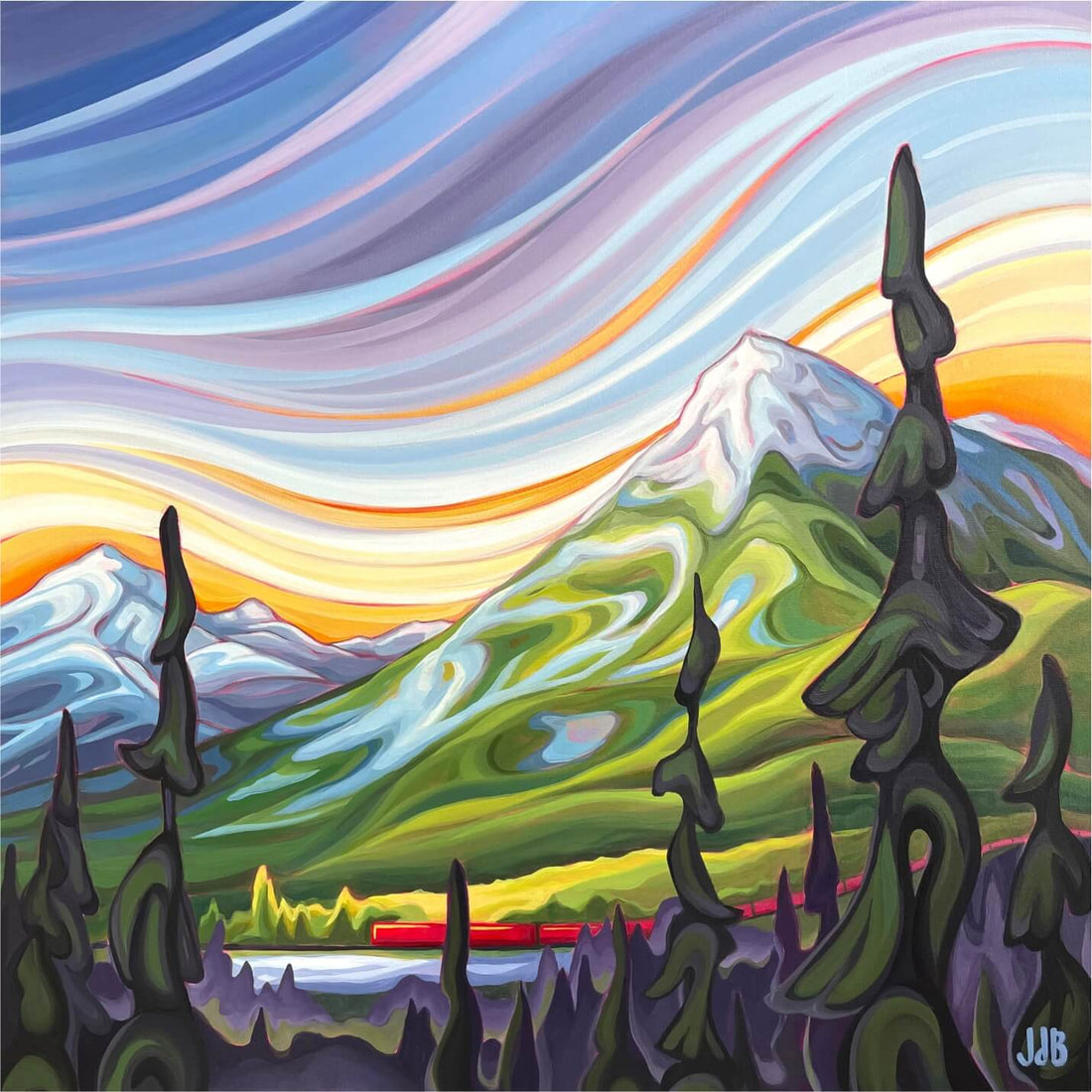 Comin' Round the Mountain by Julie deBoer
Artist: Julie deBoer
Puzzle Designer: Jasen Robillard
Dimensions: 12 cm x 12 cm
Piece Count: 73
Difficulty: 2 out of 5
Julie deBoer carefully lays out all colours of the rainbow in this mountain and railroad-themed mini-puzzle. No one will fault you for hummin' the titular folk tune while you put this puzzle together! If you are new to StumpCraft or wood puzzles in general this snack size challenge will delight you and have you coming back for more.
Packaged in a circular tin. Perfect as a stocking stuffer, hospitality token of appreciation, or corporate gift.
Made in Canada.
Customer Reviews
11/19/2023
Anik H.

Canada
I recommend this product
very - very nice discovery
I got my first StumpCraft experience after picking this small one at the 2023 vancouver Circle Craft show, to start my journey with that type of puzzle, to see how I would like it. I've done puzzles all my life, also been doing stained glass for 30 years and to me this is all putting pieces together! I love it. My experience with StumpCraft was amazing, I did this first one back to back many times. Ordered a bigger one, a week later. Those laser cut shapes and the smell of the wood ! Totally new experience and very enjoyable one. I like the superb quality of the product. Fast delivery and the beauty of the arts. The guys we met at the Craft show were so passionate and I'm glad they explained and walk us thought the idea to give it a try. As others mentioned in the comments, I would like this one in a bigger version !
09/25/2023
Rachel

Canada
I recommend this product
Need a larger version!
Beautiful artwork, love the style and colours. Even in a mini size, the cut gave enough of a challenge that this puzzle was interesting and not too quick and easy. I would love a medium-large version of this and other minis. The container is fun.
08/19/2023
Anonymous

Canada
I recommend this product
Great Puzzles
Really fun little puzzle. Quality is amazing . Pieces fit together easily. Didn't take long to do. Would have give 5* , however I think they are a little pricey, especially when paying for shipping too. That being said, I do love supporting Canadian made. ❤
07/21/2023
Anonymous

Canada
I recommend this product
Gorgeous puzzle
Gorgeous puzzle and so fun to put together. Made it multiple times in a week and it never got old.
06/27/2023
Dianna B.

United States