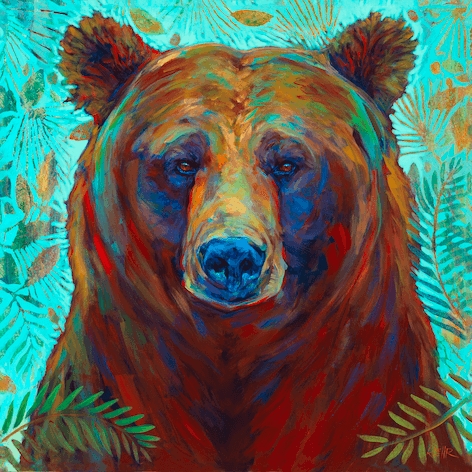 Knight Watch by Kari Lehr
Artist: Kari Lehr
Puzzle Designer: Jasen Robillard
Dimensions: 12 cm x 12 cm
Piece Count: 57
Difficulty: 1 out of 5
After a 20-year career illustrating for various agencies, studios and corporations around North America, Kari now pursues her own vision working primarily in acrylic, often incorporating mixed media. When she's not in the studio she loves to scour the mountain countryside looking for bears and other wildlife to photograph, ponder and quietly enjoy. Her paintings and reproductions can be found in private collections all over the world. Kari is a graduate of Calgary's ACAD (now known as Alberta University of the Arts), and paints from her home studio in the beautiful Crowsnest Pass, in Alberta.

We've been eager to collaborate with Kari since we were introduced to her iconic wildlife paintings and prints at our first Art Market. We're ecstatic to be able to have one of her most popular images featured on a StumpCraft puzzle.
Packaged in a circular tin. Perfect as a stocking stuffer, hospitality token of appreciation, or corporate gift.

Made in Canada.
Customer Reviews
08/22/2023
Anonymous

Canada
I recommend this product
Beautiful!
I bough this puzzle for my dad as a gift. He told me he loved it and it was very special, well made and beautifully built. He is a wood worker himself so coming from him this means a lot. I really wanted to try it too, so I got my husband to buy me one as well! Lovely design and certainly something I will keep for a long time.
08/17/2023
Anonymous

Canada
I recommend this product
Great starter size
This is a great starter size, and it is nicely packaged in a round tin!
02/20/2023
Jessica

Canada
A little, beautiful puzzle
I love Stump Craft puzzles and the mini (12x12cm) is a great way to take some time to yourself and create something beautiful! I may need to purchase 3 more and make them into a set of coasters ❤️
02/19/2023
Nao

Canada
Fell in love at first site!
I purchased the bear puzzles at a farmers market yesterday! First of all, I love the fact that it's made locally from the design to finish. And look at the cute bear… Secondly, the touch of the wooden pieces is incredibly pleasant to your fingers! And, some surprise pieces add more fun to finish! It is beautiful, easy, environment friendly, and fun for kids to seniors. I'm not a puzzle person at all but these puzzles make me want to try over and over!