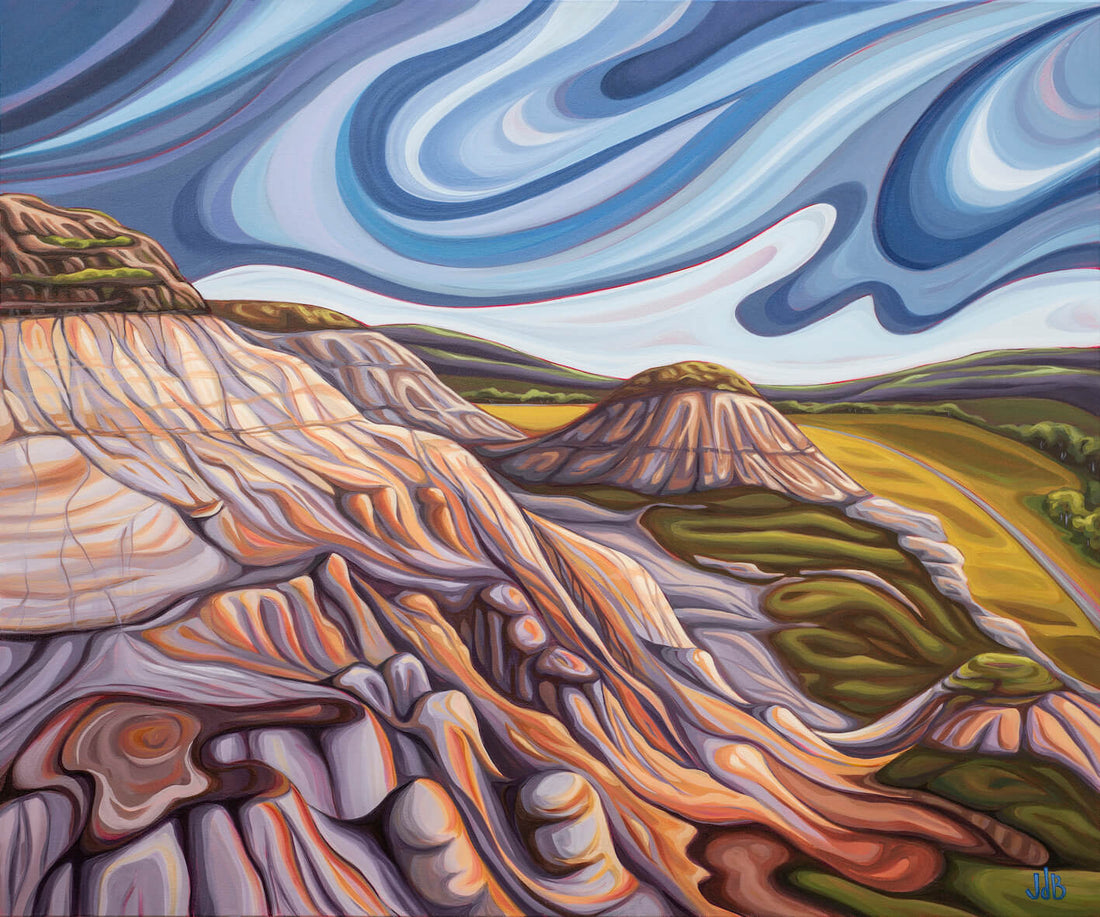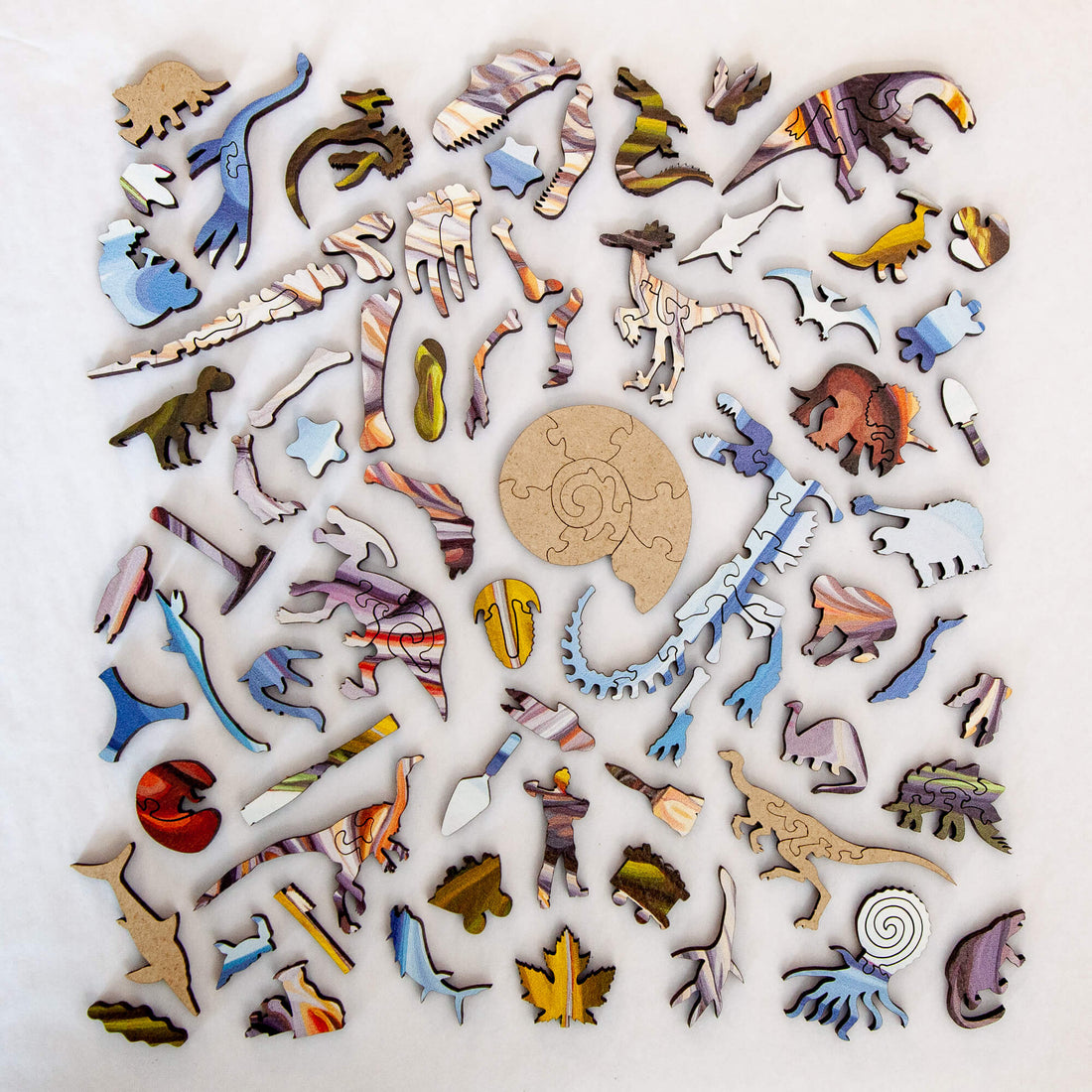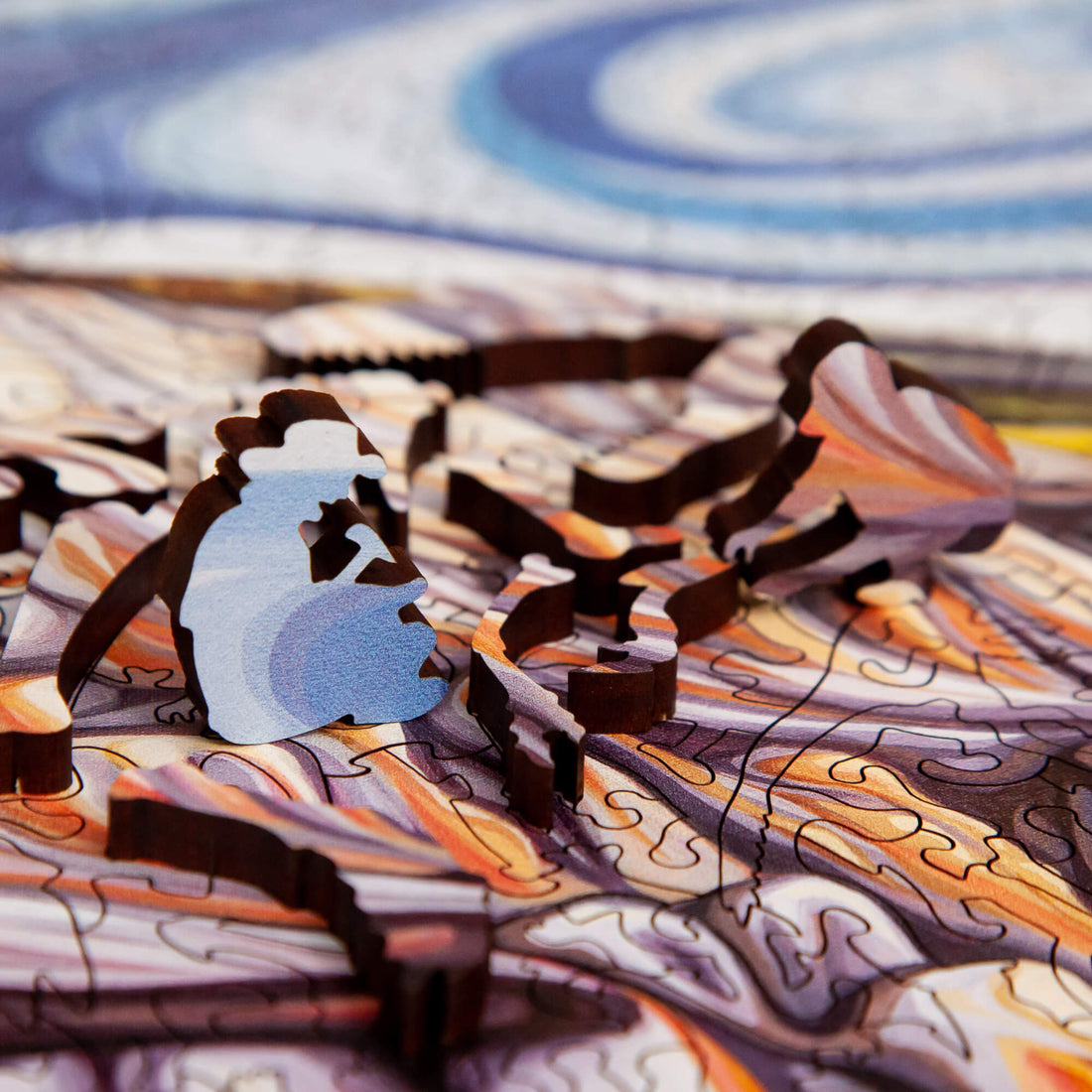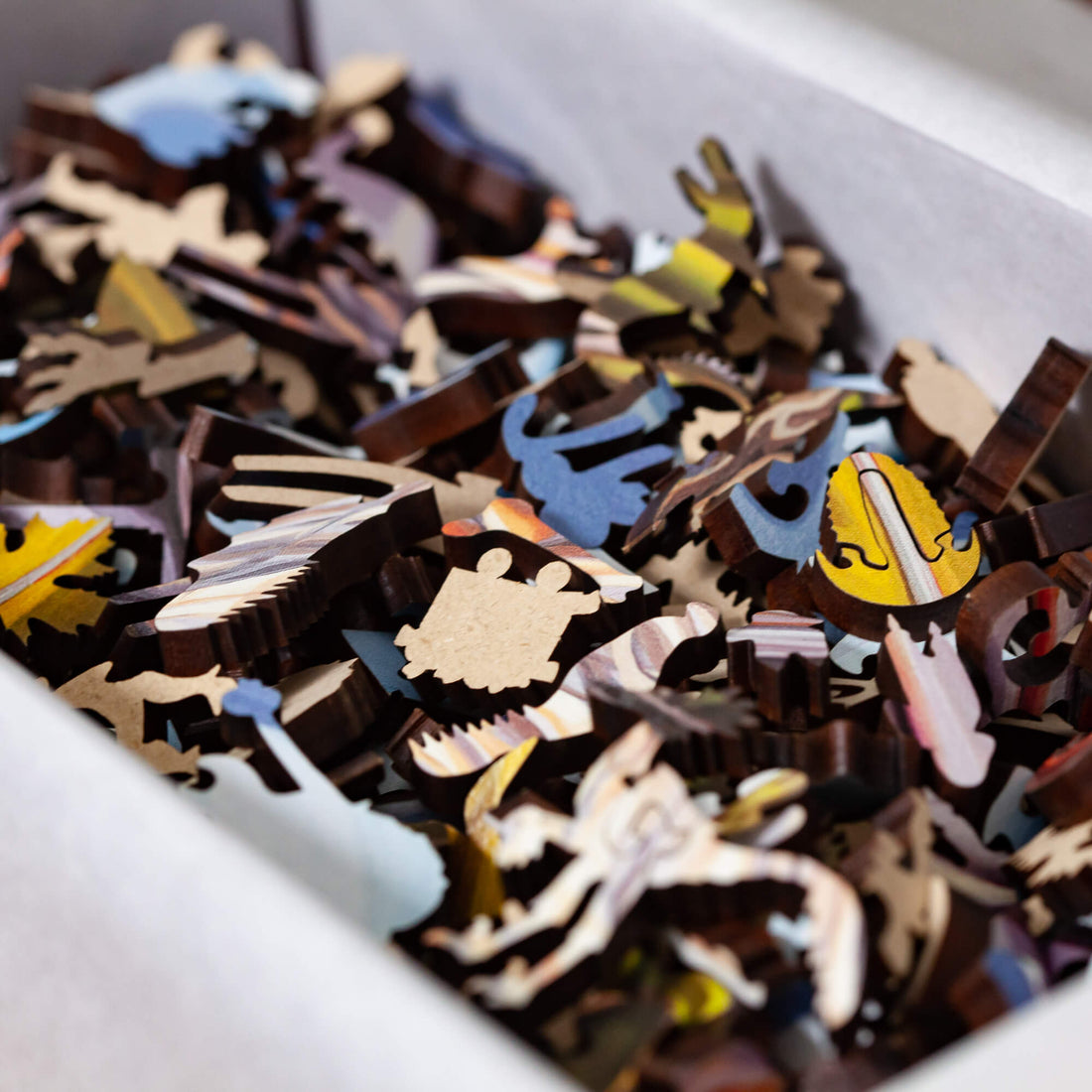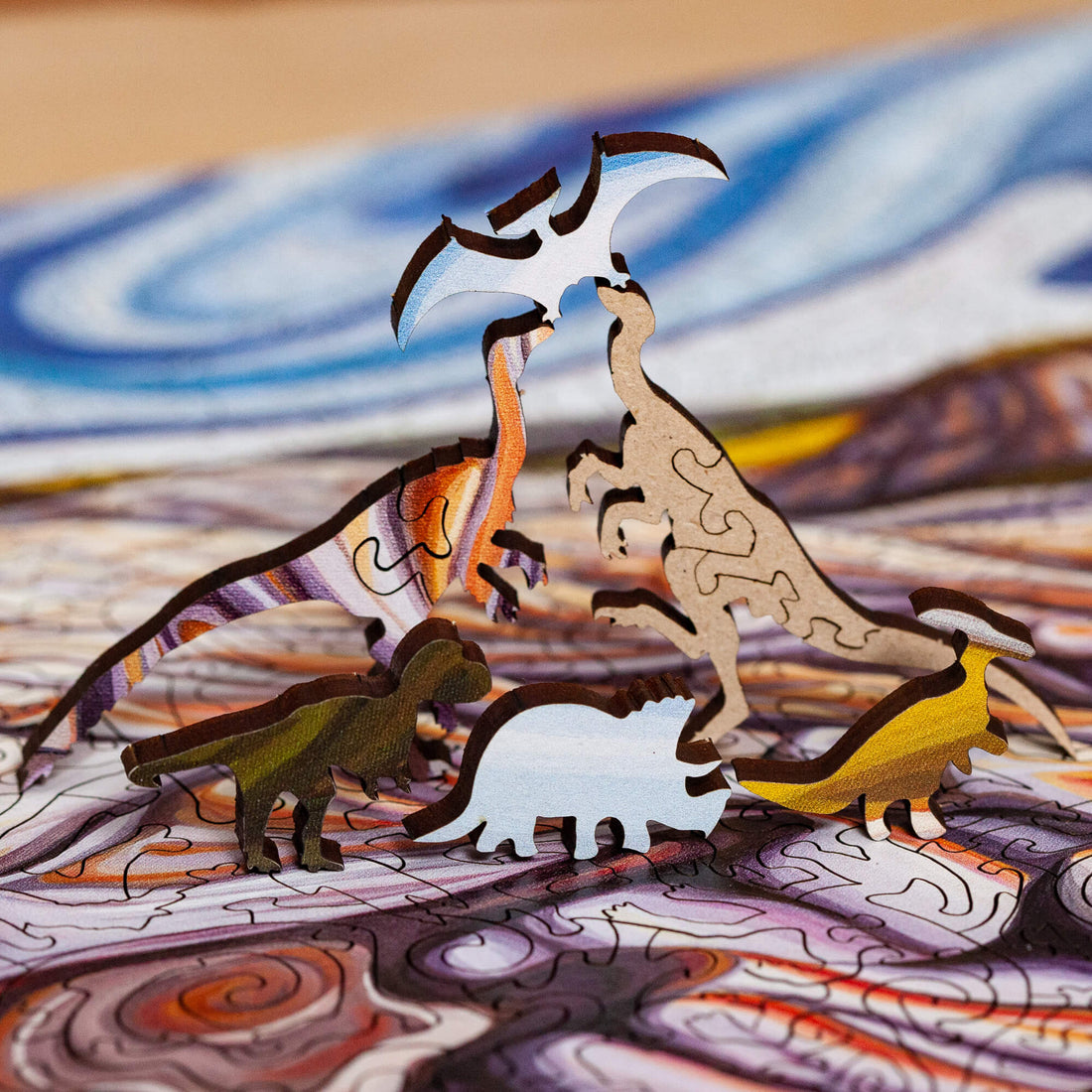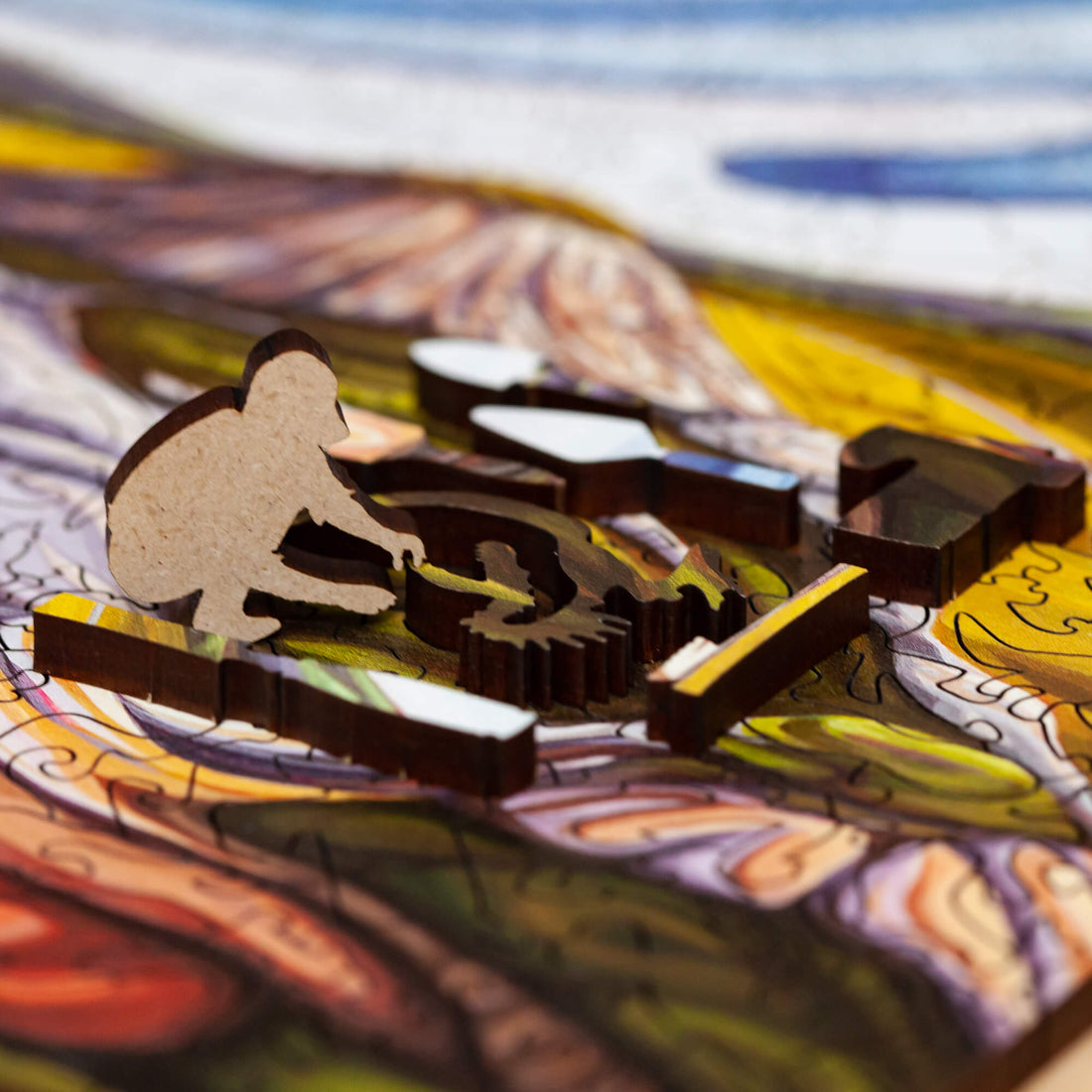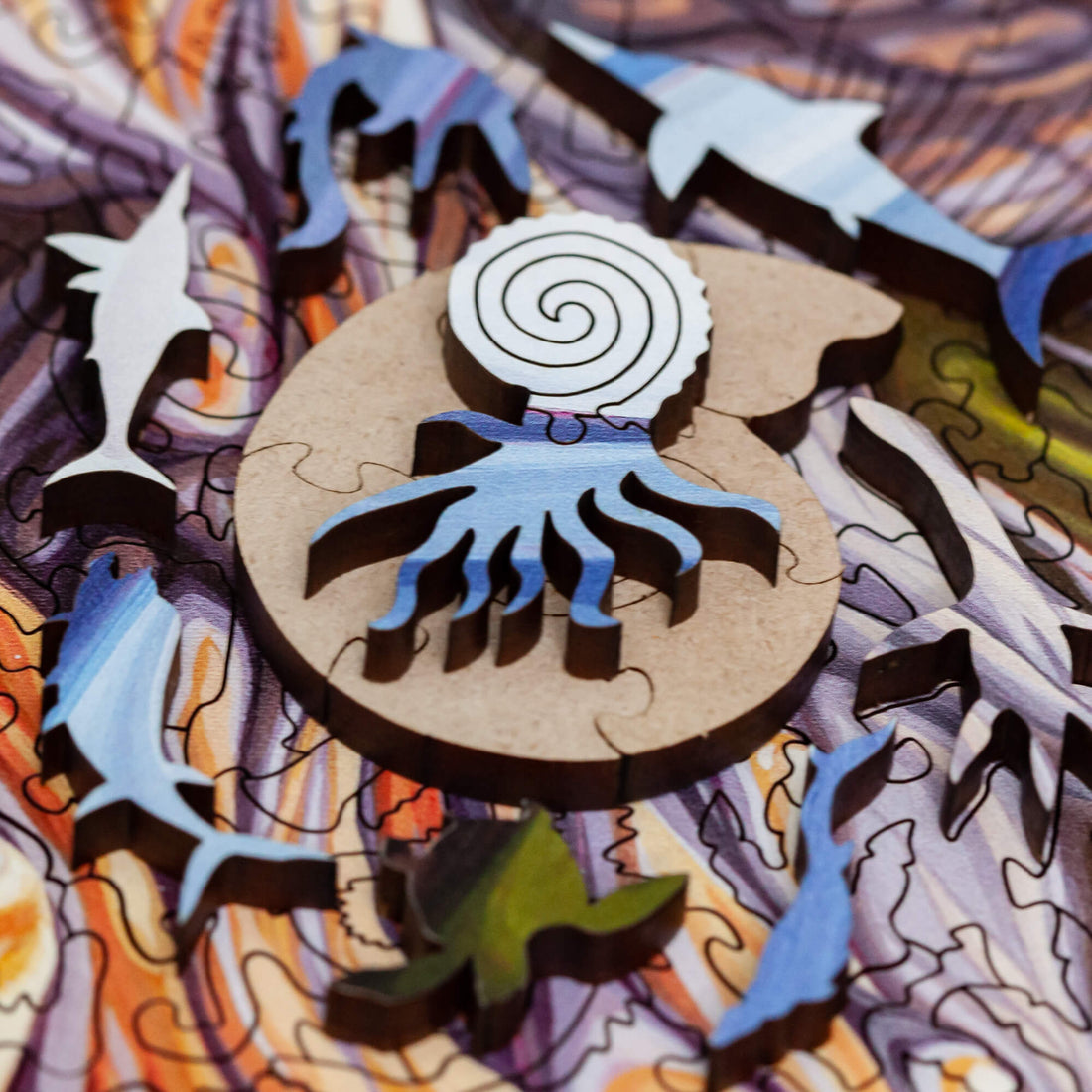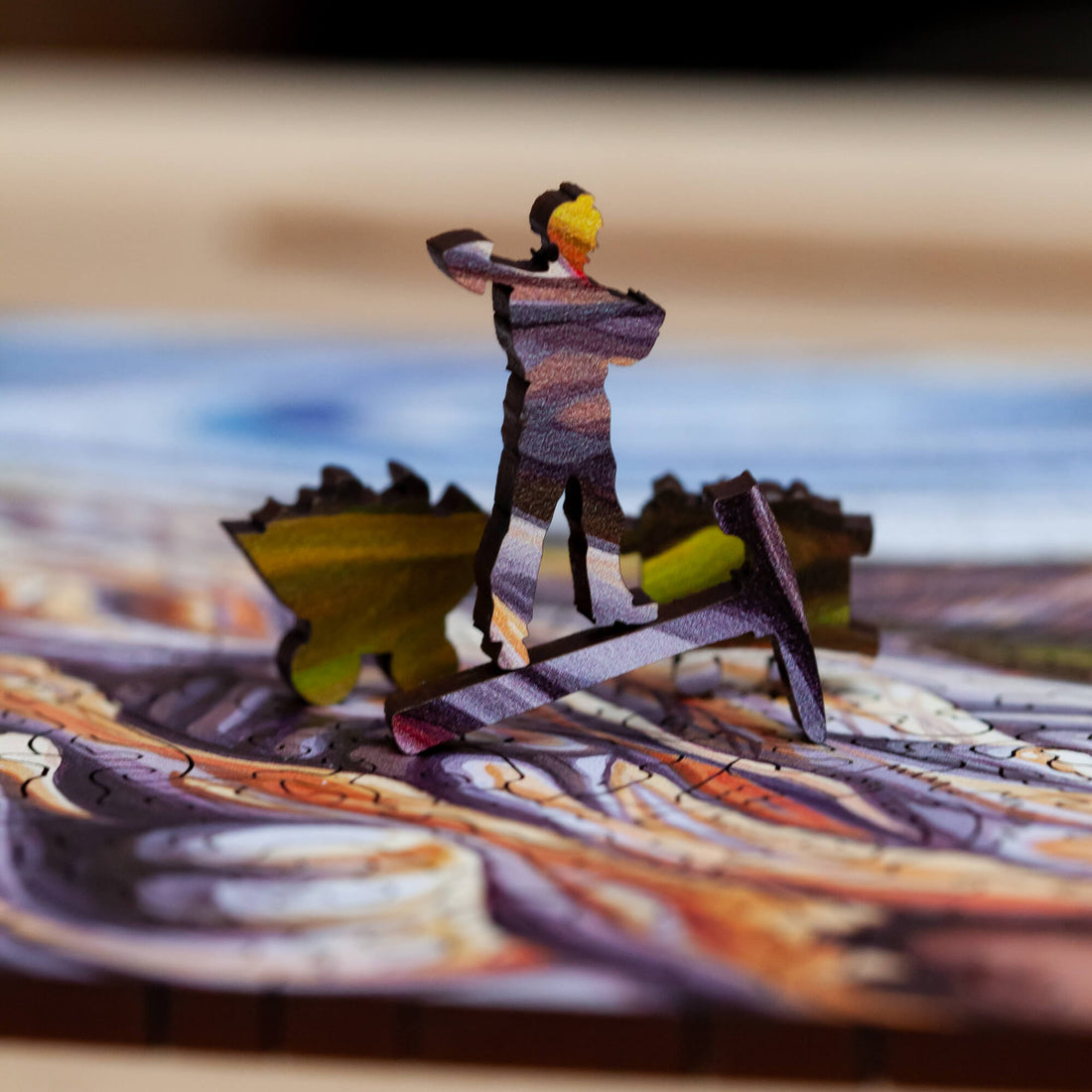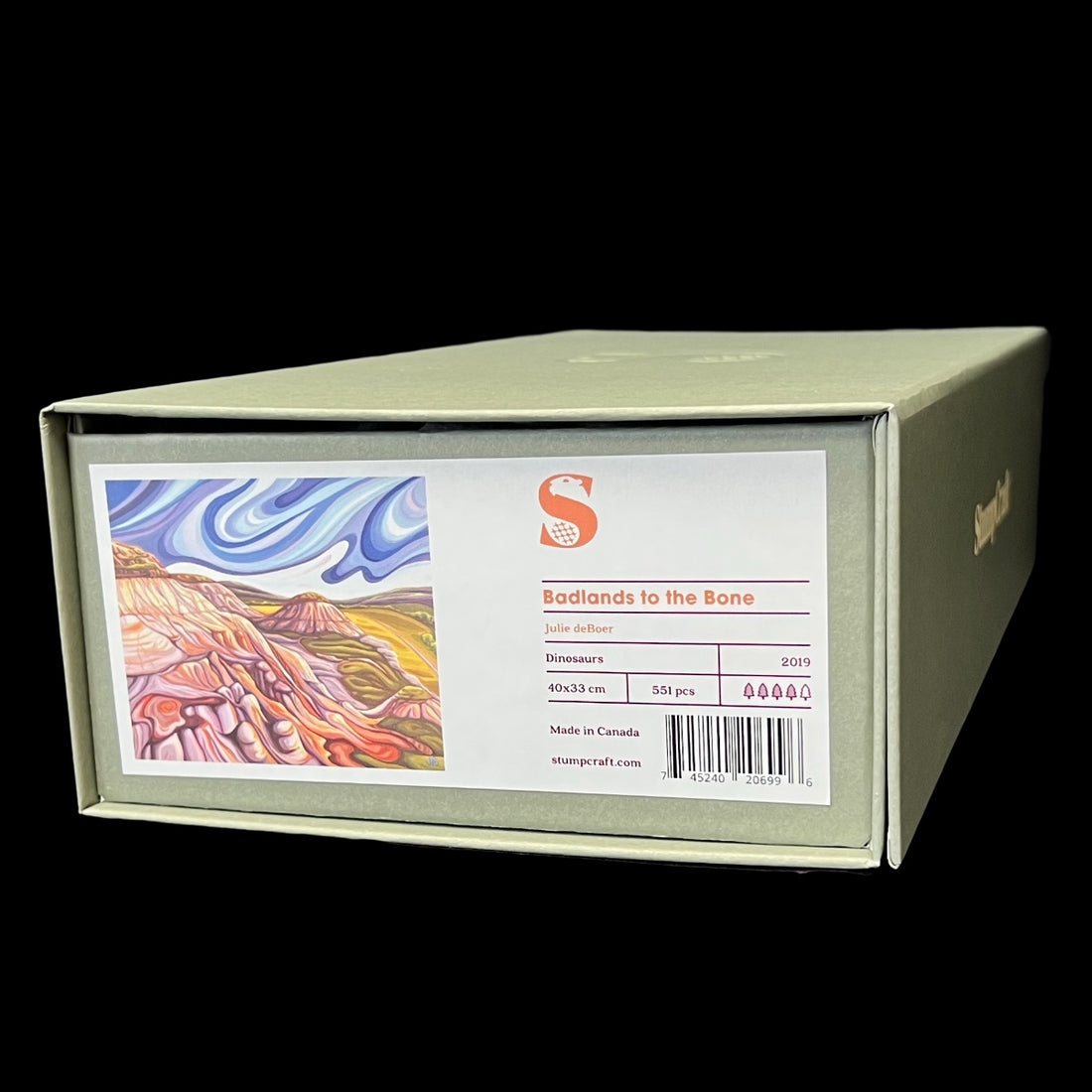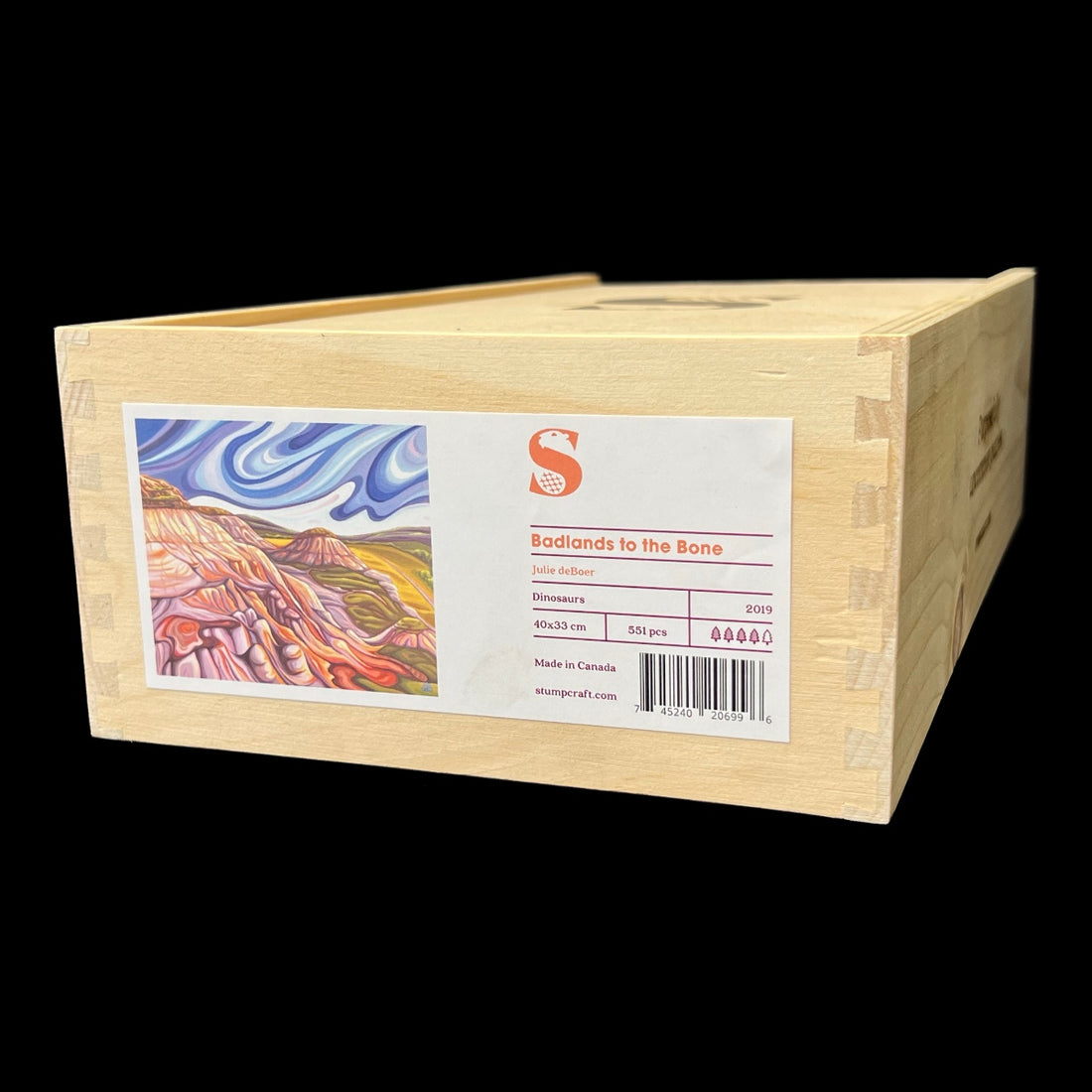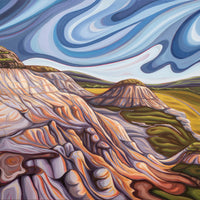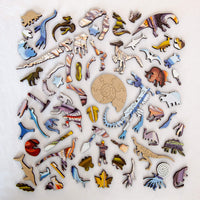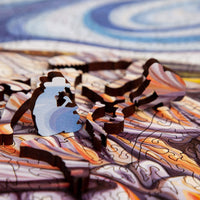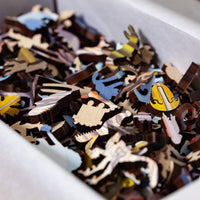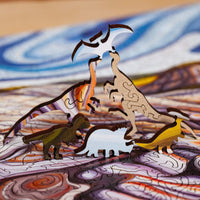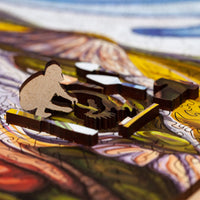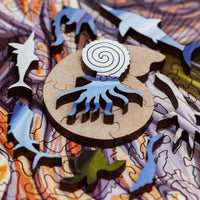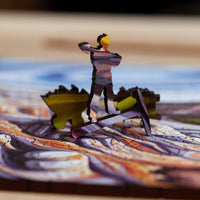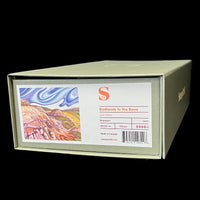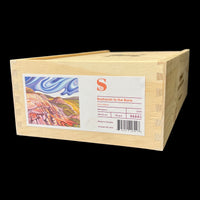 Badlands to the Bone by Julie deBoer
Artist: Julie deBoer
Puzzle Designer: Jasen Robillard
Dimensions: 40 cm x 33 cm
Piece Count: 551
Difficulty: 4 out of 5
Julie is known for her use of bold color and sharp contrast in her prairie and foothills inspired art. It was her dynamic skies that drew me to her work and ultimately led to a local artist collaboration. After sharing a few HDR photos for inspiration Julie was able to meld the bold fluidity depicted in her cloud-filled skies, into the earth-bound landscapes seen in typical Alberta Badlands morphology. 
Beyond the creation of a stunning art piece, our goal was to provide a backdrop for a dinosaur-themed puzzle. The experience of solving a StumpCraft jigsaw puzzle is very much akin to that of a paleontologist. Enjoy sifting through the dinosaur bones and see how many species you can recognize and discover!
Read more about this design at our Deep Dive Design Blog.
Made in Canada.
Customer Reviews
09/13/2023
Kelli T.

Canada
09/04/2023
Christine L.

Canada
I recommend this product
Beautiful puzzle and loads of fun
My son loves dinos and the Alberta badlands is so spectacular that I had to get this piece. This is my first Stumpcraft set and it was so much fun to build. It was pricey but a beautiful work of art that is 100% worth it, imo.
08/19/2023
Ami T.

United States
I recommend this product
Beautiful, Fun, Surprising
The craftsmanship of this puzzle is the first thing you'll notice, the pieces are just beautiful. The color is vibrant and it was just a pleasure to solve. This is a really fun puzzle to put together and now my favorite from this brand… above and beyond whimseys, I was sad to complete it!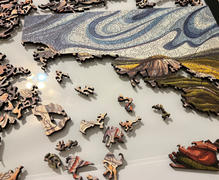 08/07/2023
Anonymous

Canada
I recommend this product
Many puzzles
I just love your puzzles and I have sent them to others. Every one is impressed and having fun doing them. Any one who comes to visit me winds up trying to fit pieces together. When I complete one I display it for awhile then undo and gift it to a friend.
08/04/2023
David B.

United States
I recommend this product
Challenging AND rewarding!
Intricate design and unique shapes make solving this one an adventure! The pieces have a "Badlands" theme which make them just as fun to work with as the beautiful picture on the front. Super high quality pieces that fit together nicely.