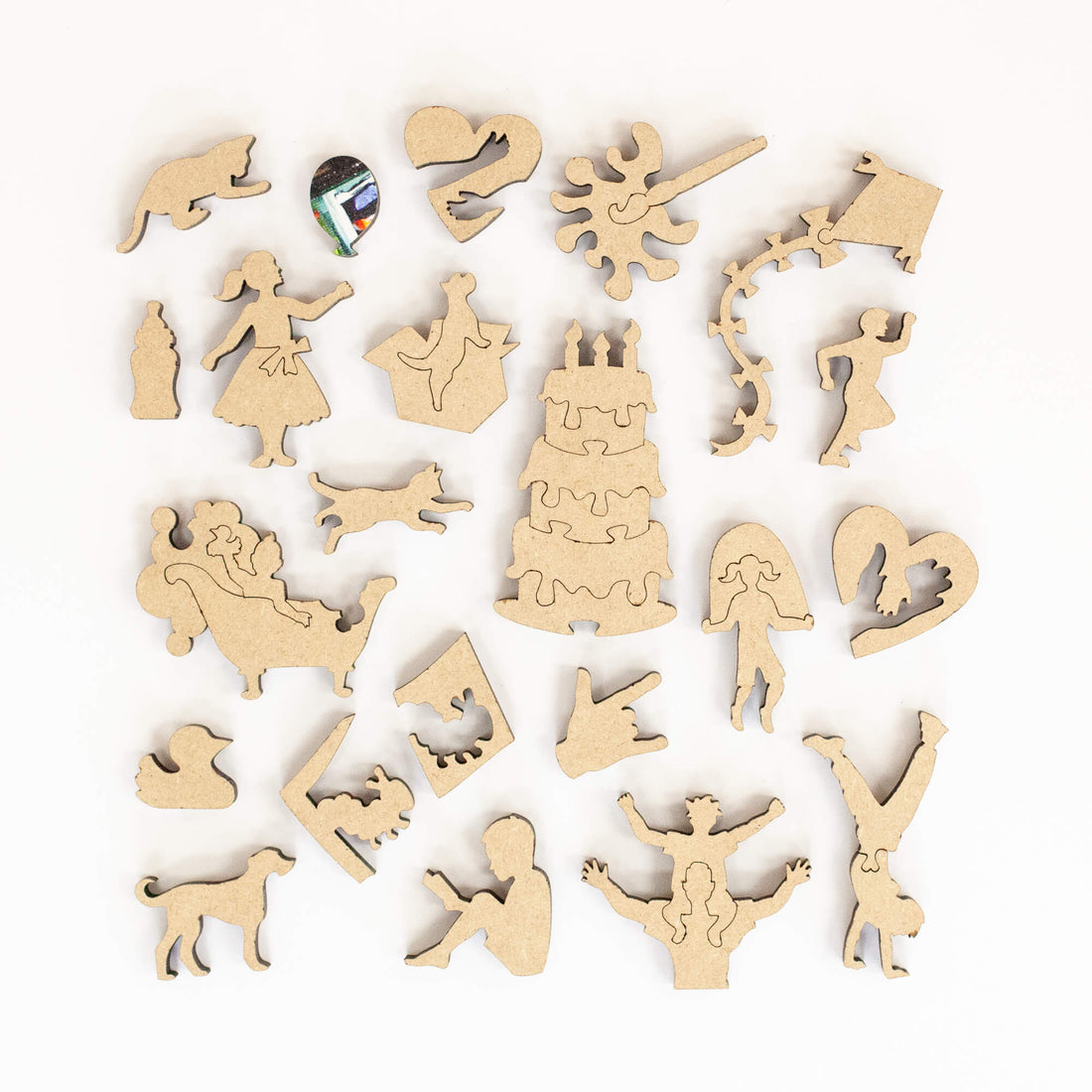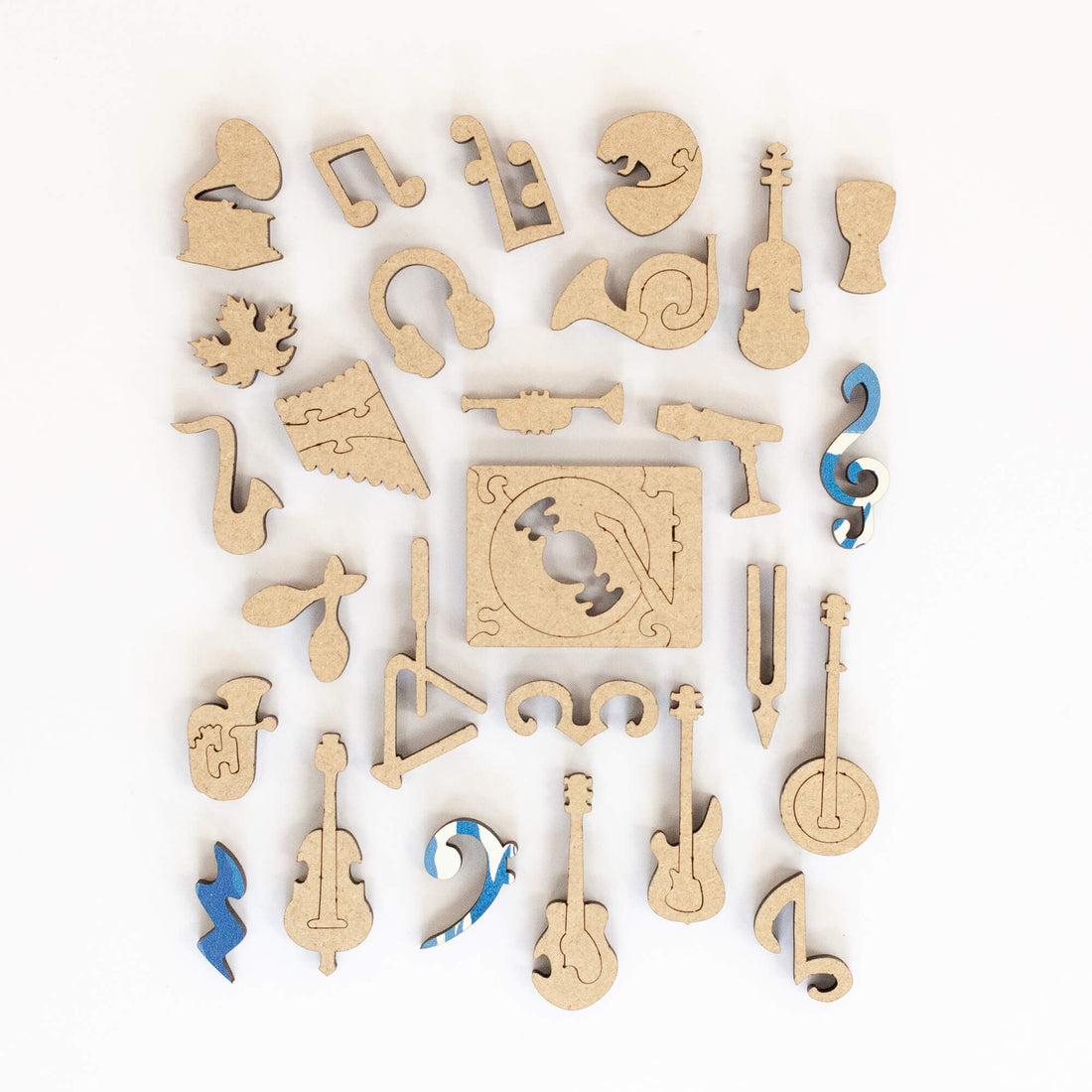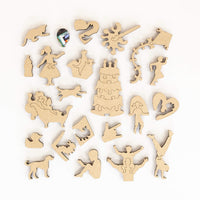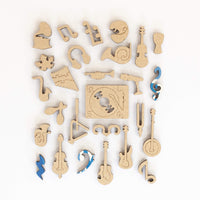 Custom Puzzles have been paused until January 2024 so we have time to get ready for the holiday season.
If you would like to be notified when they are available again click the 'Notify me when available' button below to enter your email address.
Puzzle Designers: Jasen Robillard & Siri Olson
Dimensions: 27.5 cm by 27.5 cm
Have you ever wondered what your artwork would look like on a puzzle? Want to share quality time with your loved ones by building a puzzle of a family photo, your own art creation, a cherished pet, or a snapshot from your vacation? Surprise your family, relatives, friends, or colleagues with a personalized custom puzzle just for them. 
Piece Count: 225-250 classic StumpCraft jigsaw cut pieces

Custom puzzles come in two different themes. The first theme celebrates family and features whimsical designs that highlight the bonds between family members. The second design is music-themed and packed with musical notations, instruments, record players, microphones, and other musical whimsy.

Both designs feature our signature StumpCraft style and provide exciting and distinctive challenges, making them perfect for puzzle enthusiasts of all ages.
**Please review the details tab for information on submitting your artwork and production times.
Additional copies:
Additional copies of the same custom puzzle are discounted by 25% with a limit of five additional copies. This discount is applied automatically at the checkout. If you require more than five copies, please contact us at puzzled@stumpcraft.com
Important:
When you upload your image, you will be asked to crop it to a square format. This is the only format we are accepting at this time. 




We will provide you with a proof for approval. You must approve it within 48 hours or we will proceed with the crop you have submitted.

Sales of custom puzzles are final, and we are unable to provide replacement pieces for custom puzzles.



This window for ordering custom puzzles will close in August and likely reopen in January.
Family Theme
3x Paint brushes
Kite runner
I Love You in ASL
2x Heart
Bathtub fun
Piggyback ride
Train set
Birthday cake
Handstand
Jumprope
Family pets
Rubber ducky
Book reading
Music Theme
5x Percussion Instruments
4x Brass Instruments
3x Electric Guitars
2x Record Players
Singer + Microphone
Banjo
Violin
Piano
Panpipes
Tuning Fork
Headphones
Many Musical Notations
Custom puzzle with your artwork or photo
Custom StumpCraft themed cut
Reference card with your artwork or photo
List of the whimsies
Puzzle Journal card
Custom box label
StumpCraft Deluxe Box
Custom puzzles take between 6 and 8 weeks to produce once we have all of your information. Once your puzzle is ready we will contact you to pick it up or we will send it to you depending on your selected delivery method.
By checking the box above, you attest to owning the copyright on your image. That means it's your photo, your artwork, and you have the right to reproduce the image. 

We will not reproduce images of intellectual property that does not belong to you.
To ensure the quality and accuracy of the image, please ensure that the file size is at least 2 MB up to 20 MB, is in the format of a JPG or PNG, and ideally should be 2048x2048px. Once uploaded, we require that the image be cropped square.
Screenshots are not recommended as they are naturally low resolution. 
Customer Reviews
08/31/2023
Anonymous

Canada
I recommend this product
Custom Puzzle
I had a special photo that meant a lot to my wife and I and Stumpcraft has made a fabulous puzzle from it. The quality of the puzzle, pieces and fit are way above expectations. And there is a sense of humour running through all the characters within the pieces. Thanks so much.
08/01/2023
Dorothy W.

Canada
I recommend this product
Custom puzzle delight
From concept to reality to assembly, it was such a pleasure to work with Jasen and his team. I am thrilled to have a puzzle featuring my own artwork. I chose the "family" pattern and am delighted with how many of the whimsies tell our story.